Greetings from president of Tokyo International Exchange College
Welcome to Tokyo International Exchange College. I am Seiko Hayama, President of Tokyo International Exchange College. Our school has aimed to cultivate global human resources who have fairness, equality, and self-reliance since the establishment. Under this principle, we are trying to improve students' understanding towards Japanese language and Japanese culture through Japanese lessons. And, we are having them acquire to be well-mannered cosmopolitan with mutual understanding of diverse cultures and mind of mutual respect. Our mission is to elicit young students' potential abilities to the utmost by cultivating power to live on such as creativity, deep penetration and practical skills.
School is not the only place we learn. What is necessary is to learn from world's situation and to create your own path, and that's what the modern society requires us to have as a world citizen. At the upcoming society, so called Industry 4.0 or Society 5.0, modern technology and digital technique of big data and virtual reality will be developed rapidly by the use of AI and robotics.
To survive in this society as a "citizen of the world," we must create our own way. It is a very good opportunity for students studying abroad to display your potential talents when you are facing difficult situation in different, new environment. We won't spare pain to support you.
There is always immutable ethics no matter where you are or what the world is like. We always support students from all over the world so that you can not only achieve their goals and make their dream come true but to be global human resources with humble attitude and high ethics.
President of Tokyo International Exchange College
Seiko Hayama
Greetings from principal of Tokyo International Exchange College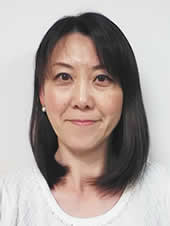 Why do you want to study Japanese?
There are many things that made you interested in Japan such as anime, gaming, movies,
and sports. However, I'm sure every one of you has dreams of what you want to do in the
future through studying Japanese language. We are strongly willing to support our students
so they can make their dreams come true.
Tokyo International Exchange College has worked on creating globally-minded people
since its establishment. Our students have international interactions through studying
alongside multinational students in the same classroom. These students not only study
Japanese language and Japanese culture, but also develop their minds to understand and
accept different cultures. Additionally, they are developing friendship with other students
from all over the world.
Please come to Japan and experience cultural differences. My hope is for our students to
grow up as globally-minded people by cultivating sensitivity and discovering their new
possibilities.
Why don't you have the time of your life in Tokyo International Exchange College?
We are looking forward to seeing you in Japan.
Principle of Tokyo International Exchange College
Kazuyo Matsumoto