Greetings from president of Tokyo International Exchange College
Welcome to Tokyo International Exchange College.
Tokyo International Exchange College is established with the purpose of Creating responsible world citizens (Globally-minded people).
Throughout our Japanese language institution, we activate student's schema, encourage them to create originality, strengthen their ability to recognize and understand the truth about people and situations.
Under globalized society, our mission is to create an environment that encourages and makes students dream come true, cooperating toward international society and their homelands in the future.
President of Tokyo International Exchange College
Seiko Hayama
Greetings from principal of Tokyo International Exchange College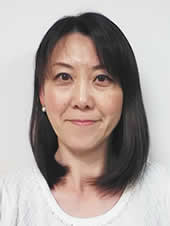 Why do you want to study Japanese?
There are many things that made you interested in Japan such as anime, gaming, movies,
and sports. However, I'm sure every one of you has dreams of what you want to do in the
future through studying Japanese language. We are strongly willing to support our students
so they can make their dreams come true.
Tokyo International Exchange College has worked on creating globally-minded people
since its establishment. Our students have international interactions through studying
alongside multinational students in the same classroom. These students not only study
Japanese language and Japanese culture, but also develop their minds to understand and
accept different cultures. Additionally, they are developing friendship with other students
from all over the world.
Please come to Japan and experience cultural differences. My hope is for our students to
grow up as globally-minded people by cultivating sensitivity and discovering their new
possibilities.
Why don't you have the time of your life in Tokyo International Exchange College?
We are looking forward to seeing you in Japan.
Principle of Tokyo International Exchange College
Kazuyo Matsumoto